There is no doubt that the 2020-21 season has been the most challenging ever for athletes and teams alike in terms of distractions from their normal rituals of preparation and travel, which is to say nothing of playing without the energy boost given to them by fans, especially Turkish Airlines EuroLeague fans.

Nonetheless, EuroLeague players and teams are achieving levels of performance and parity not seen since the competition adopted a round-robin format for the 2016-17 season.

With 211 games played so far, the numbers are clear. Compared to the last four seasons after 24 rounds, this one is offering more balance between home and away victories, better shooting accuracy across the board, closer games, more overtimes, and a tighter race for the playoffs in the standings.

There is more balance between home and away victories, better shooting accuracy across the board, closer games, more overtimes, and tighter standings than ever.

Despite the limitations, EuroLeague players and teams are rising to the challenge and giving fans ever-higher levels of competitiveness on the court.
• Home and away victories are almost balanced thanks to a 9.24% increase in road wins during the current season, showing the importance of fan support.
• Shooting accuracy has also been positively impacted during the current season with the highest free-throw and three-point accuracy under the current format and second-best accuracy for two-pointers.

MOST COMPETITIVE SEASON
•The trend toward lesser impact of home-court advantage has also led to the most competitive season ever under the current format.
•Current leader FC Barcelona, with a 17-7 record, has only 14.31% more victories than the ninth-ranked team, which would be the first to miss the playoffs. When compared to previous seasons – when the differences were 42%, 38%, 33% and 25%, respectively – it shows how competitive the current season is.
•A similar trend is identified when comparing the number of victories achieved by the standings leader as compared to the rest of teams.
•Before Barcelona, no regular-season leader through 24 rounds under the current format had lost as many as 7 games. The only first-place team to finish with as many as 7 defeats at the end of a recent regular season was Real Madrid in 2016-17, after 30 games.
•The percentage of victories by the season leader as compared to the rest of participating teams also shows a clear trend this season of closer proximity and thus more competitiveness among all teams.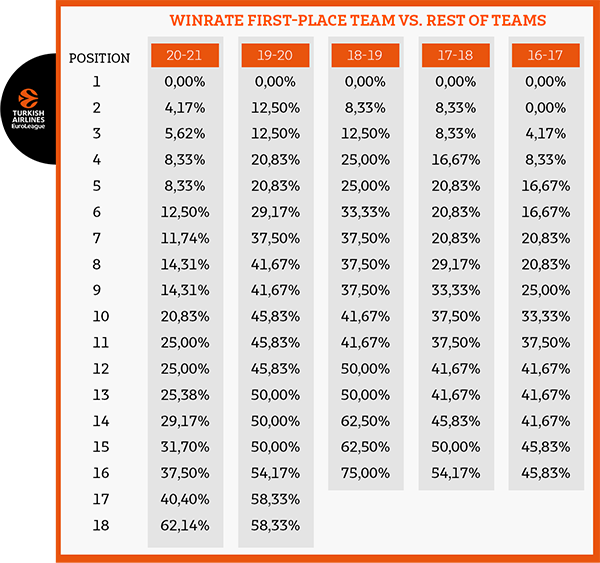 • The current season is not only bringing tighter standings but also closer games than before, with 22.7% of all games decided by a single basket (3 points or less), 33.6% by 5 points or less, and 61.1% by 10 points or less.

• Overtimes are not unusual at all this season, either, as we have enjoyed the highest number of games reaching extra time since the current format was established: 7.1% of all games.